---
 Did you know that over 2 MILLION people per year get sick from bacteria found on your dog's paws? The fact is each day your dog is walking on dirt, trash,  urine, and feces. They then track these germs into your home, car, bed, and around your family. The germs on dog paws are responsible for infecting humans with staph, salmonella, e. coli, and a nasty stomach bacteria.             
 Introducing the all-new Pet Paw Cleaner, it's revolutionary for dog owners, throw out the old dirty rag you've been using and clean your furry friend's paws easier than ever. Using silicone bristles, just add water and insert your pet's paw then twist. It removes all mud, sand, dirt, or anything your dog has gotten into in just seconds! Keep it in your car or home to ensure that you never get a dirty mess again.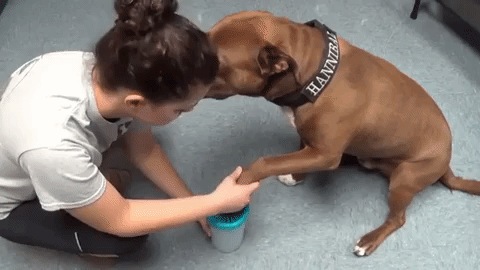 The Pet Paw Cleaner can be easily washed by rinsing it with water. The bristles are flexible, soft and comfortable for your dog when cleaning their paw, contrary to roughing them up with a cloth.                                                                                                                                                                         
 VERSATILE: Comes in 3 different sizes to fit you dog's paw no matter how big or small your dog is.
 HIGH QUALITY: This pet foot washer is Environmentally friendly and durable. Made with high quality silicone bristles,which are soft and gentle for your dog's comfort. It's also 100% BPA Free.
 EASY TO USE AND CLEAN: Easy to unscrew the lid and easy to remove the silicone brush for cleaning. Makes the whole process simple and effective.
 PRACTICAL: The gentle silicone bristles will help remove dirt and mud from your dog's paw while killing harmful bacteria and pests.
Large Size is Recommended For Dogs
---