---
This LED Mini Projector lets you set up a cinema experience anywhere you go. It can be easily stashed in a briefcase for work presentations or tossed in a backpack to take to a friend's house for a movie night. While having a small size it still renders very crisp, clear video and connects to a wide range of components. It has a built in rechargeable battery that can last up to 1.5 hours which means you can project movies even outdoors or on the terrace without worrying about wires or electric plug point! 
Perfect For Movie Nights
Watch all of your favorite movies and TV shows anytime, anywhere! The Mini Projector's innovative and updated system connects easily to all of your devices and is small enough to fit in your pocket.
💡 Bright & Vibrant: This Projector can accurately support 16.7 million colors, which gives it a rich contrast with deep blacks and bright whites, even in rooms which aren't completely dark. 
🎬 True Theater Experience: It comes with a 4:3 Screen Ratio with HD definition resolution up to 1920 x 1080.
🔈 Built-In Speaker: The built in Internal sound can be used or you can also use an external audio source, such as a soundbar or speakers.
👓 Harmless LED Light:  The Premium LED light is harmless for the eye and has a very small power consumption.
✈️ Compact & Portable: Can be powered from just a power bank. Perfect for camping, business meetings and travels. You can take it anywhere you go!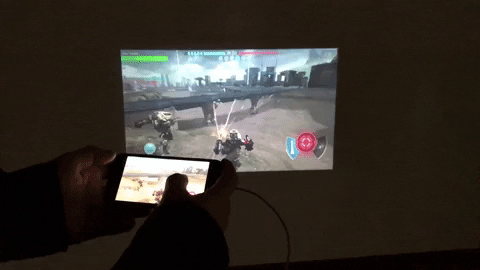 BUILD YOUR OWN  THEATER

 ANYWHERE 
The Mini Projector 2.0 is a complete and portable home theater system with built-in speakers and an Advanced LED technology that displays crystal clear sharp images while putting less stress on the eyes than a standard back light screen. Due to it's small size, its perfect for vacations, camping, going to your friends house, and pretty much anywhere.
MULTIPLE

 CONNECTION OPTIONS
Despite its compact size, this projector is compatible with just about any media device you have. Present presentations saved on  a USB flash, hook up a laptop,desktop, or mobile device to binge-watch your favorite shows, or connect a your video game console to play on a larger-than-life screen.
---