---
The Cone Ice/Snow Scraper is the only ice scraper you will ever need for your car. Its intelligent cone design is suitable for the toughest of winters and makes it easy to use. The smaller side of the cone is a non-scratch ice-breaker whereas the larger side is designed to get you more room while removing ice.
 You really can't go wrong with the Cone Ice/Snow Scraper because its simply better than any other ice scraper on the market. It is a must-have for anyone that hates spending a lot of time removing ice from their cars.
Premium Material: This circular ice scraper is made of high quality ABS material. It is soft and durable. At the same time, the size of this ice scraper is 5.7 x 4.5 x 4.5 in. It is not very big, you can put it in your car boot and it will not take up too much space. 
 Delicate Design: This ice scraper is a ingeniously designed ice scraper and snow remover. That's cone shaped, so you can simply move it in any direction or in circles to remove more snow from your car at a time.
Mini Spikes:  The mini spikes design in this ice scraper are used strategically to scrape of snow and ice effectively and fast The end of it has mini spikes that protrude from it, if there is a large build-up of ice on your car windows, you can tap the end of it on the ice, and it'll easily break away.
Quick and Useful: The circular ice scraper can clear ice and snow from your cars windows twice as fast as traditional scrapes.This ice scraper can remove even the most frozen frost from your car windows. At the same time, it will not scratch the glass on your car while using it.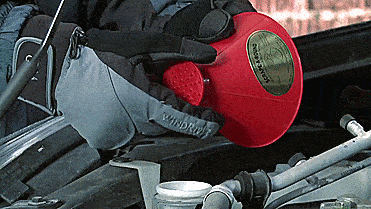 ---