---
The all new amazing and ergonomically designed Foot Massager 2.0 activates joints to maximize relaxation and release tension through the complicated network of nerves in your feet. Developed in cooperation with the medical community, this foot massager delivers a completely new level of massage functionality by emulating the techniques used by chiropractors and massage therapists.
It simultaneously provides an invigorating massage to feet and ankles. Its penetrates deeply into the muscles and helps relieve tension and improve circulation. Pressure nodes located under the soles of your feet stimulate the vital reflexology pressure points. You can now enjoy the soothing benefits of a professional-quality foot massage right in the comfort of your own home.
Multi Functional Massager - The Foot Massager 2.0 targets key pressure points—toes, arch, heel, and sides—to soothe tired and worn feet, stimulating circulation and comfort and providing a extremely soothing and relaxing massage. 
Ideal For Any Condition - If you suffer from stress, diabetes, varicose veins, circulatory issues, sore feet, ankle pain, post-surgery relief or any other problems, you will benefit from this foot massager that will help reduce the pain and make you feel better.
Modern Design - The sleek, modern, and compact design provides superior and effective relief at home or work. Controlled by a clean and simple hand touch panel which gives you the ability to change settings whenever you want simply with the touch of a button. It also has a detachable fabric foot cover for easy cleaning.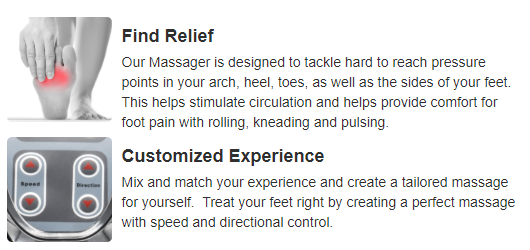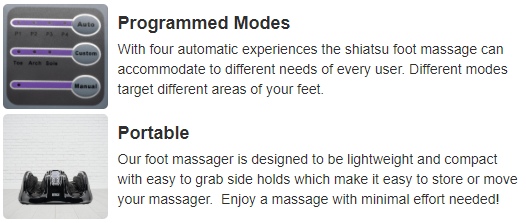 ---